2016 – GOOD SPACE – POLITISCHE, ÄSTHETISCHE UND URBANE RÄUME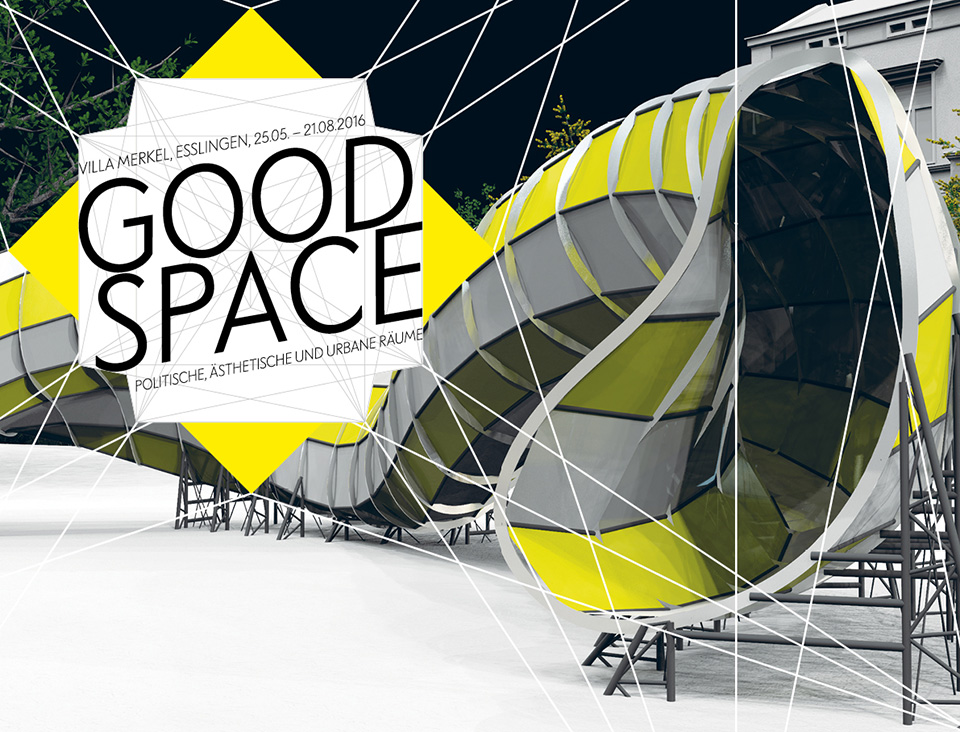 Please scroll down for english version.

GOOD SPACE – POLITISCHE, ÄSTHETISCHE UND URBANE RÄUME ist ein beispielhaft, vielschichtig und sinnlich angelegter Ausstellungs-Essay. GOOD SPACE meint im besten Sinne Chancen. Etwa in Gestalt von überraschenden Raumnutzungen, von geglücktem Bauen, der gelungenen Organisation gesellschaftlicher Bedürfnisse oder von subversiven künstlerischen Strategien. Befragt werden im Projekt der Villa Merkel die Gestalt und Bedeutung öffentlicher Räume – seien diese de facto gebaut oder als utopischer Entwurf angelegt oder etwa im Digitalen angesiedelt. Themen sind die Visionen und Träume, die an den öffentlichen Raum in je unterschiedlicher Weise adressiert werden, auch dessen Zukunftsfähigkeit und Perspektive oder Fragen danach, wie das Individuum im Öffentlichen zu agieren in der Lage sei.
GOOD SPACE bespielt mit Arbeiten, Videos, Entwürfen und mit Konkretisierungen prozessualer Auseinandersetzungen die Räume der Villa Merkel, das Bahnwärterhaus und den Merkelpark. Flankiert wird die Ausstellung von zahlreichen Veranstaltungen wie Workshops, Vorträgen, Konzerten oder dem eigens für GOOD SPACE entwickelten, in besonderer Weise integrierenden Vermittlungsangebot von Forschungsspaziergängen – ausgehend von Beiträgen in der Ausstellung konkret ausgreifend auf die Stadt mit ihren vielfältigen Besonderheiten.
Eine Kabinett-Ausstellung in der Ausstellung ist EVERYTHING IS ARCHITECTURE: Bau Magazine from the 60s and 70s. Sie wurde zunächst für das ICA, London, durch Juliette Desorgues kuratiert und hat nun ihren Gastauftritt in der Esslinger Villa Merkel. Reflektiert werden historische Voraussetzungen – auch für die im Rahmen von GOOD SPACE zur Diskussion gestellten zeitgenössischen Beiträge. EVERYTHING IS ARCHITECTURE widmet sich visionären und utopischen Architektur- und Raumbegriffen der 60er und 70er Jahre. In den Fokus gerückt sind neben Originalen des Architekturmagazins Bau etwa Ansätze von COOP HIMMEL(BL)AU oder der in Wien gegründeten Gruppe Haus-Rucker-Co. Letztere beginnt ab 1967 an einem radikal neuen Architekturbegriff zu arbeiten. Sie entwickelt neben pneumatischen Architekturen auch aufsehenerregende und durchaus spielerische Objekte zur Erweiterung von Wahrnehmung und Kommunikation. Die verrückte Welt von Haus-Rucker-Co ist noch heute vorbildhaft und wird nicht nur durch raumlaborberlin weitergedacht: Wir nennen es "forschungsbasiertes Gestalten… Eine Architektur, in der es gelingt, Raum mit individueller Erfahrung zu verschmelzen, lässt neue Qualitäten entdecken, die dazu führen, dass neue Bilder von Stadt entstehen…" Mehr zu diesem Thema finden Sie HIER.

GOOD SPACE – POLITISCHE, ÄSTHETISCHE UND URBANE RÄUME widmet sich der Wahrnehmung und Erfahrung des öffentlichen Raums aus heutiger Perspektive und setzt Schlaglichter auf aktuelle Fragen danach, wie angesichts beschränkter Ressourcen Zukunft zu gestalten sei und gesellschaftliches Leben gelingen kann. In der Ausstellung zum Zuge kommen funktionale und ästhetische Neudefinitionen von Orten durch eigens gebaute Strukturen, die neuartige Erfahrungen auch des öffentlichen Raums möglich machen. Gegenstand der Reflexion sind vielfältige Formen von urbanen Erfahrungen, Aspekte des Bio-Spacing oder von den gesellschaftlichen Rändern her gedachte Entwicklungsmodelle für Städte und Gesellschaften. Die Architektur von Informationsstrukturen wird thematisiert sowie Fragen von Überwachung und Unsichtbarkeit im digitalen Raum. Anschaulich dargestellt ist, wie sich aus dem Studium evolutionärer Prozesse der Pflanzen zukunftsrelevante Methoden in Bereichen des Bio-Designs oder der Stadtökologie ableiten lassen. Interaktive Interventionen laden zur Partizipation ein – so viel, um punktuell Fragestellungen von GOOD SPACE zu skizzieren.
An GOOD SPACE – POLITISCHE, ÄSTHETISCHE UND URBANE RÄUME nehmen international agierende Künstlerinnen und Künstler, Architekten und Forscher teil, namentlich Los Carpinteros (CU), Martin Creed (GB), Binelde Hyrcan (AO), Jasper Niens (NL), Jon Rafman (CA), Hito Steyerl (DE), Ryan Trecartin (USA), Christoph Wachter & Mathias Jud (CH), Stephen Willats (GB) und die interdisziplinären Gruppen raumlaborberlin (DE) sowie PNAT (IT).
Eintritt: Euro 5,00 / Ermäßigt: Euro 3,00 / Familienkarte: Euro 8,00
Jahreskarte Villa Merkel: Euro 10,00
Ermäßigung erhalten Schüler, Studenten und Rentner.
——————————————————————————————————–
GOOD SPACE – POLITICAL, AESTHETIC AND URBAN SPACES is an exemplary, complex and toward sensory experience oriented exhibition essay. GOOD SPACE means chances in the best sense of the word. For example, in the shape of surprising utilizations of space, felicitous construction, successful organization of social needs, or subversive artistic strategies. In the project of the Villa Merkel, questions are raised about the form and significance of public spaces – regardless of whether these have in fact been built or are simply utopian designs or are situated in the digital realm. The themes are the visions and dreams that are related to public spaces in various ways, as well as their future feasibility and perspective, or questions as to how the individual is capable of performing action in public spaces.
GOOD SPACE brings artworks, videos, designs and concretizations of processual investigations to the spaces of the Villa Merkel, the Bahnwärterhaus, and the Merkelpark. The exhibition is accompanied by numerous programs such as workshops, lectures and concerts, as well as by the specially developed, integrating outreach initiative of exploratory walks which proceed from actual contributions to the exhibition and expand concretely out into the city with their diverse particularities.
A cabinet presentation in the exhibition is EVERYTHING IS ARCHITECTURE: Bau Magazine from the 60s and 70s. It was first curated for the ICA in London by Juliette Desorgues and is now making a guest appearance at the Villa Merkel in Esslingen. There is a reflection upon historical prerequisites – also for the contemporary contributions that are subject to discussion in the framework of GOOD SPACE. EVERYTHING IS ARCHITECTURE is dedicated to visionary and utopian architecture and spatial concepts from the 1960s and 1970s. In addition to original issues of the architecture magazine Bau, the focus is on approaches by COOP HIMMELB(L)AU or by Haus-Rucker-Co, which was founded in Vienna. The latter began to work on a radical new concept of architecture starting in 1967. In addition to pneumatic architectural constructs, it developed sensational, quite playful objects for expanding perception and communication. The crazy world of Haus-Rucker-Co is still exemplary today and its approaches are thought further not only by raumlaborberlin: we call it "research-based design…. An architecture in which space is successfully merged with individual experience makes it possible to discover new qualities which lead to the emergence of new images of the city…." For further information please klick HERE!
GOOD SPACE – POLITICAL, AESTHETIC AND URBAN SPACES directs its focus to the perception and experience of public spaces from a present perspective and casts light on current issues such as how, in spite of limited resources, the future can be designed and social life can be successful. Coming to the fore in the exhibition are functional and aesthetic redefinitions of sites by specially built structures that facilitate innovative experiences also of public spaces. The subjects of reflection are the complex forms of urban experience, aspects of bio-spacing or the developmental models for cities and societies conceived from the fringes of society. The architecture of informational structures is treated as well as issues of surveillance and invisibility in the digital realm. There is a vivid representation of how the study of the evolutionary processes of plants can give rise to future-relevant methods in the areas of bio-design or urban ecology. Interactive interventions invite participation – enough to briefly sketch out the thematic issues raised by GOOD SPACE.
Participating in GOOD SPACE – POLITICAL, AESTHETIC AND URBAN SPACES are internationally active artists, architects, and researchers, namely Los Carpinteros (CU), Martin Creed (GB), Binelde Hyrcan (AO), Jasper Niens (NL), Jon Rafman (CA), Hito Steyerl (DE), Ryan Trecartin (USA), Christoph Wachter & Mathias Jud (CH), Stephen Willats (GB) and the interdisciplinary groups raumlaborberlin (DE) and PNAT (IT).
Admittance Fee: Euro 5,00 / Reduced: Euro 3,00 / Family Card: Euro 8,00
Annual Ticket Villa Merkel: Euro 10,00
Reduction for school children, students and pensioners.